The driving force behind Premiere Team Fitness
We are so excited to bring Alloy Training programs to the area. We are a licensed Alloy facility. The Alloy programs are simply the most effective programs in the world for helping people look and feel their absolute best. University-degreed exercise physiologists, a Doctor of Physical Therapy, a registered dietician and other advisory board behavioral specialists are all involved in the creation of these programs. If you want something different from anything you've tried before, then you need to come to Premiere Team Fitness where, not only will you get amazing results, but you will actually laugh, have a good time and make some new friends.
Tap image image to see Skyler's full bio >>
Premiere Team Fitness Owner, Skyler Cashion, has enjoyed a lifetime of sports and healthy living.
Skyler has enjoyed 15 years doing Group Fit training, private one on one training, as well as attaining pro status as a competitor in SNBF Women's Figure and a National Qualifier in NPC competitions. Skyler's passion inspired her to create a safe, positive environment where she could inspire others to greater fitness through living a healthy lifestyle.
She has discovered Alloy Personal Training Systems, the perfect program that takes the best of Group Exercise and Personal Training into a program that virtually guarantees results. Skyler's passion is to truly transform lives. She accepts nothing less, and has a large number of successful clients in the Dallas/Acworth area. Using Alloy keeps her and her entire team on the cutting edge of the fitness industry.
Skyler's vision is to create a positive change in this community, both healthwise and through the club's generous give-back to the community out reach programs.
- dotFIT Certified Practitioner
- Alloy Certified Trainer
- Les Mills Instructor since 2003
- BodyPump
- BodyCombat
- BodyFlow
- BodyAttack
- BodyStep
- Health & Wellness Ambassador
The fitness industry is on a new, exciting path. The traditional commercial, $10 per month membership gyms are starting to die and next generation fitness facilities like Premiere Team Fitness are leading the charge. People are recognizing that merely renting equipment from a gym each month isn't the answer to their fitness goals. Equipment is just a tool to get a desired result. What good is a tool if you don't understand how to maximize its potential?
We believe everyone deserves the right to achieve THEIR goals. It is our philosophy to never tell a client what weight/body fat percentage/etc they should be at. Our clients tell us their goals and then it is up to us to get them there. Every person is unique and at Premiere Team Fitness, we don't ask our members to fit into our box of health and fitness. We actually take time to get to know our clients and then we figure out how to work inside of our clients' lives in order to help them get results that they desire.
Try a free workout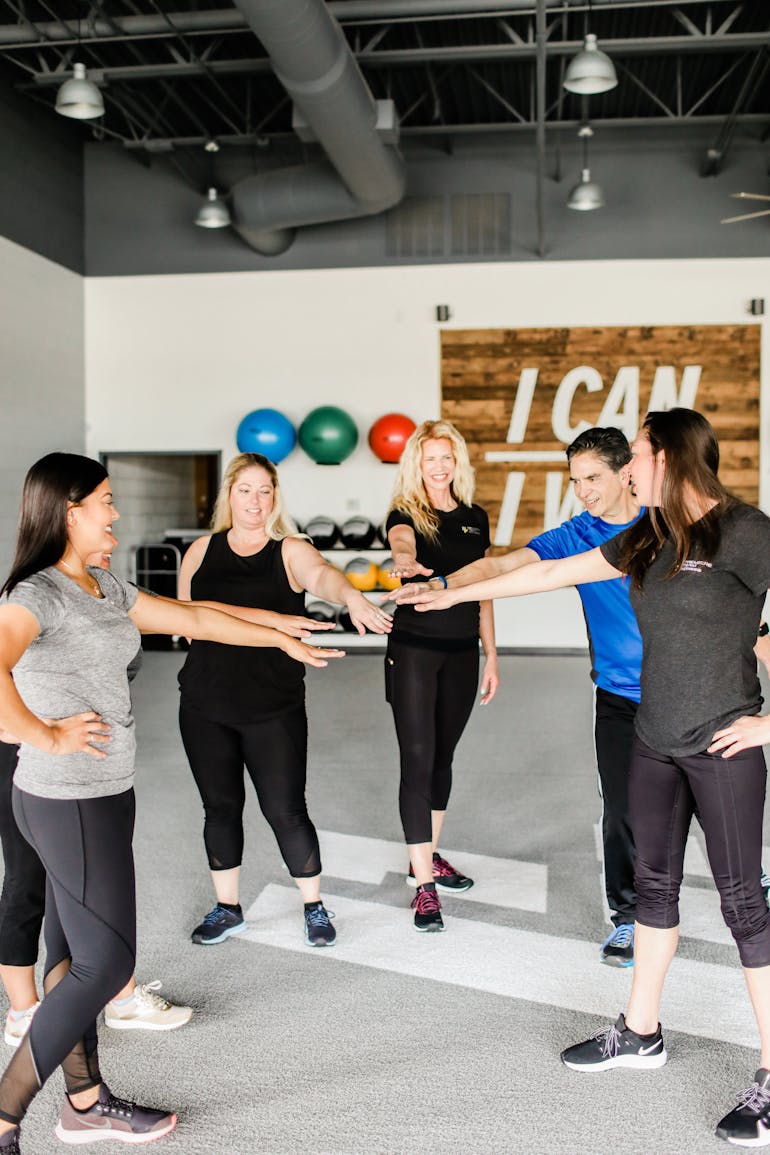 We don't have Salespeople…. You will not be hounded. We are not interested in selling you things you don't need. We offer a variety of results-oriented training packages available to suit your individual goals. If you are looking for place that doesn't follow the typical gym rules and you are looking for something different than anything you've tried before, then you need to come and check out Premiere Team Fitness. This is a place where, not only will you get amazing results, but you will actually laugh, have fun, and make some new friends….
We at Premiere Team Fitness believe that it is our responsibility to give back. We feel so fortunate to be in the business of changing lives that we strive to take it one step further. We donate a portion from every membership to charitable organizations. This means that by being a member of Premiere Team Fitness, you are giving back!
Try a free workout